"A gifted guitarist and composer" -The Whole Note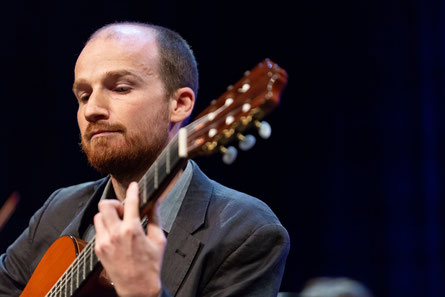 Graham Campbell is a composer and guitarist who creates music driven by melody and colour. He writes concert music and film scores that are rooted in his background as a songwriter. He grew up in a musical family in Bloomington, Indiana, a small town but a large cultural hub of the American Midwest. By the time he was a teenager he was soaking in everything from big band concerts to opera to the thriving local punk scene. His love and curiosity for music of all kinds has remained with him throughout his career. Now based in Toronto, Canada, Graham is equally comfortable playing original chamber jazz on a concert stage as he is playing psychedelic rock at a local club.
​
He is a frequently featured composer at many major festivals across Canada and Europe, including the Ottawa Chamber Fest, The Festival of the Sound, and the Tiberius International Chamber Festival. From 2014 to 2019 he helped create and present over 20 risk taking and adventurous concerts as an artistic producer with Spectrum Music, a Toronto-based composer collective. He collaborates often with his father (a world-renowned clarinetist) James Campbell, including the full-length album As You Near Me, which features Graham as a composer, arranger, guitarist, and producer.
​
Graham performs regularly at many major festivals across North America and Europe. working with some of Canada's best musicians including violin virtuoso Mark Fewer, jazz singer and pianist Laila Biali, jazz icon Gene DiNovi, the award-winning Afiara String Quartet, and pillar of Canada's Brazilian music scene Aline Morales. He is a member of psychedelic Brazilian rock band Os Tropies, reggae band The Human Rights, Brazilian choro trio Manjericão, klezmer jazz group Queen Kong, and his own chamber jazz octet, The Graham Campbell Ensemble. In 2016, his indie band Words Around the Waist released House, a full-length album produced by Jean Martin and featuring many of Graham's songs.
​
As an arranger, Graham is frequently commissioned by artists such as Brazilian/Canadian singer songwriter Bruno Capinan, fiddler and step dancer Dan Stacey, and musical theatre star Robert Pilon.
​
A passionate music educator, Graham has spent over 10 years working with Strings Across the Sky, a program that teaches traditional fiddling to indigenous Canadian children. He has shared the gift of music in dozens of public schools around Ontario, and also teaches privately. Although an experienced teacher, he considers himself a student for life and sees every project as an opportunity for personal and artistic growth.