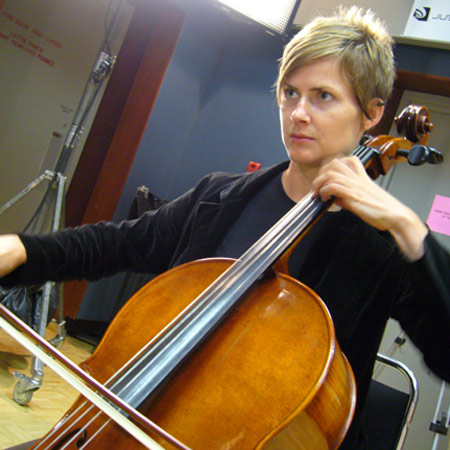 Cellist Leanne Zacharias' approach to musical life has been compared to extreme sport— from soloist to collaborating across genres with choreographers, writers, architects, visual artists, and musicians of all stripes, she has emerged with a uniquely vibrant and contemporary voice.
A versatile performer, her debut solo album will be released in 2021 on Redshift Records, with support from the Canada Council for the Arts. Concerto solo appearances include Xalapa, Mexico, Manitoba, and from a rowboat in Austin, Texas. She has been artist-in-residence at the Banff Centre for Arts, San Francisco's Odyssey Works, and Sweden's Elucian Ensemble, an apprentice with Montreal's Nouvel Ensemble Moderne, and shared stages with the Houston Symphony Orchestra, Toronto's Aradia Ensemble, The Australian Art Orchestra, the Hylozoists, Tafelmusik Baroque Orchestra, the Boundary Ensemble, Toca Loca, the Agassiz, Ottawa and Ritornello Chamber Music Festivals, Nuna (now), and X-Avant Festivals, Winnipeg's Groundswell new music series, as part of Nicole Lizee's Saskpower, with the Boundary Ensemble, Austin's New Music Co-op, Whitehorse's Longest Night Ensemble, Wiretap's Jonathan Goldstein, the Miro Quartet, Edgar Meyer and the Weakerthans among others. She has toured with the Manitoba Chamber Orchestra, Camerata Nova choir and with longtime cohort, songwriter Christine Fellows, she has toured the continent and contributed to original music for video, modern dance, five albums on Six Shooter Records, and the Winnipeg Arts Council-sponsored Reliquary performance project. She spearheaded the Correction Line Ensemble, melding narrative songwriting with contemporary chamber music. A strong advocate for the new, Dr. Zacharias has premiered dozens of compositions, commissioned several handfuls, and worked with leading composers including Arvo Part, Krystof Penderecki, Joan Tower, John Adams, Travis Weller, Robert Honstein, Nicole Lizee and George Tsontakis among numerous others. Recordings have been broadcast across CBC Radio, NPR and BRAVO.
As a curator, she has designed unique performances for the International Cello Festival, the Winnipeg Design Festival, and in the Canadian Museum of Human Rights as part of the Winnipeg Symphony Orchestra's New Music Festival. Installation collaborations include Sonus Loci, presented by the Warming Huts Competition for Art & Architecture, and Portal Zero with architect Richard Derksen. She has held residencies for this work in Iceland and Churchill's Northern Studies research centre. Other collaborations have resulted in work with visual artists Shary Boyle, choreographer Lesandra Dodson, poet Di Brandt, performance artists Jaclyn Pryor and Abe Burickson, sound artist Steve Bates, the Mountain Goats and John K. Samson. She curates Music for Spaces, a site-specific performance project with installations presented at the Cohen New Works Festival, Orford's Sound Art Workshop, Germany's Intersymp 2008 and New York City's AMP Music Series to great acclaim. Her project Listening Booth has been presented in Sackville, New Brunswick's Sappyfest Music Festival and by the Agassiz Summer Festival. Other collaborative projects have been presented at the Sutherland Gallery of Art, the Art Gallery of Southwestern Manitoba, Austin's Creative Research Lab and the Big Range Dance Festival.
Dr. Zacharias has been Brandon University's cello professor since 2008. An energetic teacher, she is popular as a guest lecturer and adjudicator, including at the Domaine Forget International Music Academy, Rosamunde Academy, Prairie Cello Institute, the Whistler Music Festival, Regina Music Festival, Saskatoon Music Festival, Cadenza Summer Festival among others. She co-directs A Wild Studio, a summer workshop held in Canadian National Parks, and the Hybrid Intensive workshop in San Francisco.
An active leader in the arts community, she has served on the Board of Directors of the Manitoba Arts Council and the Artistic Committee of the Brandon Chamber Players. She was a co-curator of the Works in Progress Cabaret series, and co-founded the interdisciplinary Wheat City Nuit Blanche annual event, together with Natalia Lebedinskaia. She has served on jury panels for the Canada Council of the Arts and the Winnipeg Arts Council. She has participated at the Banff Research in Culture workshop at the Banff Centre for Arts, served as composition/performance chair of Austin's Gamma-UT musicology conference, and performance chair of the IIAS Arts + Humanities Sessions in Baden-Baden, Germany.
Originally from Morden, Manitoba, Dr. Zacharias studied with Arek Tesarczyk and Paul Marleyn at the University of Manitoba before receiving a Masters Degree from Rice University's Shepherd School of Music as a student of Desmond Hoebig. She received her Doctorate from the University of Texas at Austin, where her interdisciplinary performance research was supported by the Getty Foundation, a Roberts Endowed Presidential Scholarship, the Manitoba Arts Council, the Amati Foundation and a prestigious Graduate Continuing Fellowship. While there, she was a company member of the American Repertory Ensemble, the Movable Feast performance collective, and worked closely with Josh Gindele of the Miro Quartet and musicologist Phil Ford.
Leanne performs on a Couterieux cello made in Paris in 1823.